Toyota is known for its innovative and unconventional thinking. The world's number 1 auto maker has done many firsts in the automotive industry. Following its trend, Toyota Motor has joined hands with the reputed children's television network Nickelodeon to come up with Highlanders that feature the cartoon character SpongeBob SquarePants as its theme. This distinctive theme is supposed to be a big hit with kids who are huge fans of this funny cartoon character, and it might as well appeal to some quirky adults.
The Japanese auto major and the children's TV channel have come together to bring forth the first ever SpongeBob SquarePants themed vehicle, in the form of the 2014 Toyota Highlander. The funny and loony cartoon character that is a sea-sponge and lives in a pineapple under the sea will be featured on the painted surface of the 2014 Toyota Highlander.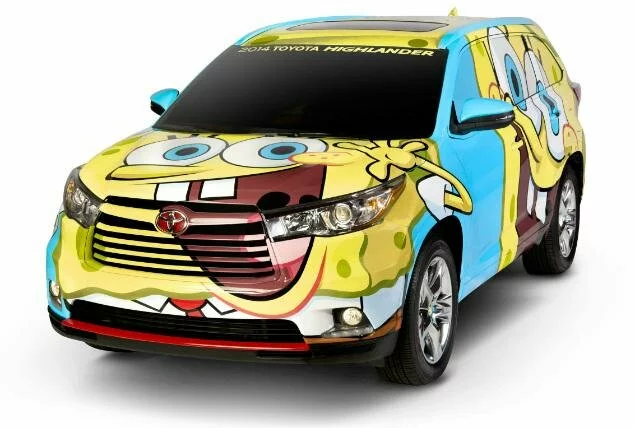 This cartoon themed Highlander would be perfect buy for the car consumers who have kids who are SpongeBob SquarePants fans and want to please the kids with this uniquely designed vehicle. The 2014 Toyota Highlander is very competent midsized utility vehicle that can cater to all the requirements of space and comfort for a family. When this vehicle comes with a very offbeat and unique custom SpongeBob theme on its exterior, then gives out a very funky and offbeat look that can very well fit with those individuals who are on the lookout for a specialized, colorful and lively custom look for their vehicle.
Toyota says that the company is very excited and honored to be partnered with Nickelodeon and especially to partner with SpongeBob, to help it launch the all new 2014 Highlander. The vice president of marketing at Toyota Motor Sales, U.S.A. Jack Hollis says that Highlander and SpongeBob both have things in common, as both are very family friendly and pure fun.
The SpongeBob themed Highlander was scheduled to be launched during Nickelodeon's "SpongeBob day" in San Diego, on last Saturday. The all new 2014 SpongeBob Highlander will be going on a road trips as a part of a promotional activity known as the "Happy Driving". The 2014 Toyota SpongeBob Highlander will visit seven cities across US, as part of the touring activity this year including Nickelodeon Suites Resort, Orlando, SpongeBob Shellabration, Hollywood; Artscape Festival, Baltimore; Nickelodeon Universe at Mall of America, Minneapolis; Gourmet on Gore Festival; LA Auto Show, Los Angeles among others.
At the scheduled spots where the SpongeBob themed highlander will carry out road trips, many special events will be conducted including airbrush tattoos in certain interactive areas where children can create SpongeBob GIF to share with their friends online. There will be contests where kids along with their families can get to win exclusive SpongeBob Toyota Highlander branded prizes.
The SpongeBob Highlander is indeed a unique idea that Toyota has come up with. However, this particular theme might not appeal to everyone owing to its unusually brightly colored and idiosyncratic exterior design, as cars are usually expected to have a classy appeal.
Tagged: SpongeBob SquarePants Highlander