Toyota has unveiled its Etios Exclusive edition for a price of Rs 4.95-7.13 lakhs. People might wonder why the term Exclusive is being used here, the reason being to celebrate the fabulous success of the car with over 1 lakh sale units. Exclusive editions are commendable launches for the company, to celebrate an anniversary moment. Owning an exclusive car is something most people would look forward to, but the only problem is the cars are sold in limited numbers. Those keen to grab the exclusive edition Etios should do it now, since there are only 2000 pieces sold till November this year.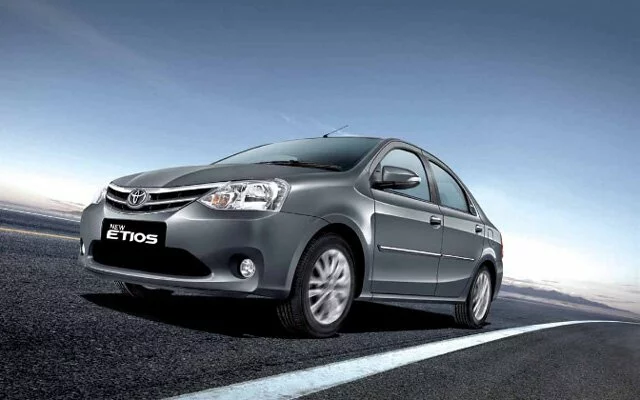 The Etios along with Etios Liva are popular models in India, recognized for their incredible combination of luxury and style. The cars are built at the established Toyota Kirloskar Motor's second unit in Bidadi. The company has built another division called Toyota Kirloskar Auto Parts, and this factory manufactures transmissions and gasoline engines for Etios Liva and Etios. The Etios Liva and Etios have generated admirable profits in international segments as well such as Argentina, Brazil, Bhutan, Nepal, Seychelles, Zimbabwe, Mauritius, Sri Lanka, and South Africa, and also Indonesia which has recently become an attractive international unit destination.
The Etios is equipped with exciting and lavish interior equipments like premium cushion upholstery, chrome decorated shift knob, fresh Xclusive logo, quality interior two tone ash brown décor, parking sensors for rear, world class music system with USB and Bluetooth facilities.
The Etios Liva and Etios Xclusive are more stylish version of G trim. Both Xclusive models are offered in diesel and petrol engines. The Xclusive edition of Etios is pricier than the current G Etios variant by around Rs 6,000 and the same follows with Etios Liva Xclusive by about Rs 5, 5,000.
G versions of Etios Liva and Etios have power packed features like adjustable outer rear view mirrors, air conditioner, power windows, and power steering and so on. The Etios is a reliable product in terms of engine efficiency, built with a potent 1.5 liter petrol mill that churns remarkable engine outputs of 132Nm peak torque and 90PS highest power. The 1.4 liter diesel mill released remarkable efficiencies of 170Nm highest torque and 68PS maximum power. The Liva is inserted with a dynamic 1.2 liter petrol mill that releases efficient engine outputs of 104Nm peal torque and 80PS maximum power.
Toyota has rolled out its Etios Liva and Etios Xclusive model in interesting colors that complements its professional and celebration stature in silver, grey and white. Ardent Toyota Etios fans will be thrilled with the launch of Xclusive version of the car. Mahindra has also unveiled the Special Edition Scorpio, to celebrate the grand success of the car.
Those keen to buy the Etios Xclusive edition car, this is a worthy purchase. There is something special about owning the Toyota Xclusive, since there is a celebration story behind it, one can also boast about owning a car that has yielded milestone results.
The car is built with amazing features for the price offered in terms of exclusive exterior style, super lavish interiors and mind blowing engine performance.
Tagged: Toyota Etios, Toyota India