Toyota is world renowned auto firm recognized for its stylish and posh cars; the company has engaged in some ground breaking technology and is now working on hybrid cars. Most people are familiar with the adverse Indian market conditions that have prevented admirable profit margins; the rupee value has reduced to more than 20% next to the dollar. With the harsh macro economic conditions, companies now have to sort out different methods to save its eminent status. Toyota Kirloskar Motor (TKM) has increased the costs of its exclusively stylish Camry hybrid and Fortuner SUV (Sports Utility Vehicle) by one percent.
There are some important facts to consider as to why foreign headquartered auto firms have raised vehicle costs. Toyota has an enormous production capacity in Indian segments, and auto components are also exported from overseas. The depreciation of Indian rupee which has hit an all time low margin has resulted in increased costs of components. Most companies import cars to Indian markets in the form of Completely Built Units (CBU's) all these factors have forced companies to deliver cars with higher pricings.
Most people would wonder why the prices of Fortuner and Camry hybrid are pretty steep, the main reason is imports from international segments, and this has resulted in increased prices. Sources claim that the Indian subsidiary of Toyota, Toyota Kirloskar Motor imports car components and later accumulates the pieces on Indian soil. According to reports, Toyota Fortuner is now priced higher by Rs 22000 and Camry by Rs 25,000 to 28,000.
According to Sandeep Singh, the Chief Operating Officer and Deputy Managing Director in Commercial and Marketing department of Toyota Kirloskar Motor announced, ''the reason for the increased costs of Camry hybrid and Fortuner is the depreciation of Indian rupee and increased input prices, and we has no other choice by to raise prices by around 1%.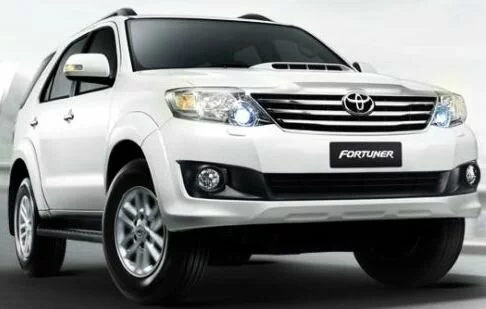 Auto companies have faced some turbulent periods in terms of sales with weakening of Indian rupee against the dollar, and increase in input prices. This has been the trend for over eight months; to top it all the Government has imposed excise duties on vehicles. This has forced established firms like Toyota Kirloskar Motor to increase costs of its classy Camry hybrid and Fortuner models by over 1%.
Even with the adverse market conditions, Toyota is still working on developing cars with inventive engineering technology as observed with hybrid models. The Prius hybrid is recognized for its spectacular exterior sculpt and has generated admirable global profits of over one million. Toyota Kirloskar Motor has recently launched the Camry hybrid built with a powerful 2.5 liter beltless petrol power train and electric motor. The technology used here is Hybrid Synergy Drive, which acts as an efficient signaling medium to transfer between electric and petrol engine. The powerful petrol engine releases shockingly impressive engine outputs of 160PS power and 213Nm peak torque, and engine motor churns 205PS power.
Camry hybrid is a symbol of a ground breaking product incorporated with a herd of power packed technologies in one car such as reduced Noise and Vibration Harshness levels, lower emission and carbon dioxide levels at 122.8 grams.
The incredible features of Toyota Camry hybrid and Fortuner would surely not dampen the popularity of the cars even with the one percent price hike.
Tagged: Toyota, Toyota Camry Hybrid, Toyota Fortuner