Toyota is a world renowned auto figure, and has built cars with incredible luxury and style. The Rush is among Toyota's most popular model and sports an ideal SUV image. The phrase Rush suits the car to the core, since this is an ideal piece to just jump into it and explore amazing city spots. For those who are keen to purchase the Rush, the car is reliable in terms of mileage at 14.8 kmpl. A grand car and admirable mileage is the best combination any one can ever hope for.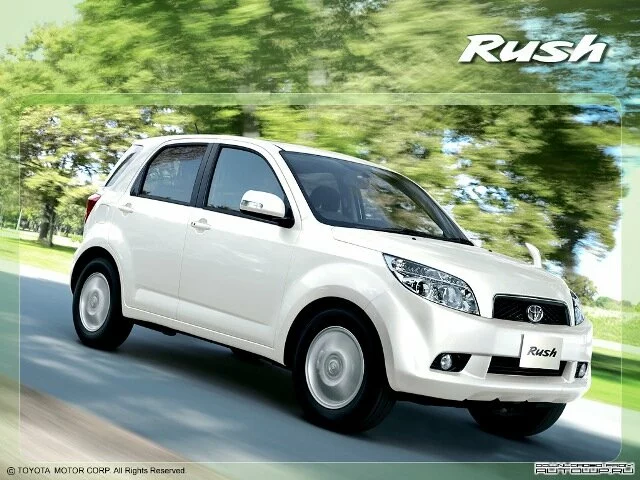 The Rush is equipped with a potent 3SZ engine, with four cylinders, built with DOHC technology and has a phenomenal displacement capacity of 1495cc. This dynamite engine churns 80Kw power and 141Nm peak torque. The engine technology used here is VVTi and this aids in continuous closing and opening of the valves, which happens in a blink of an eye in 1/1000th second.
Families and group of friends can have a whale of a time in the Rush with its amazing entertainment accessory. There is a world class 2 Din music system with Mp3 and CD facilities. To enjoy some amazing music, there are six speakers, with incredible acoustic base. This is the best pastime to wipe away the bore factor during long drives. For those who use the car to work, and have to cover long journeys, listening to pleasant music will soothe the mind and driver's can tackle tacky presentations with ease.
The efficiency of tires is critical for long and safe journeys; the Rush is built with powerful alloy tires, with a 215/65R16 radius. These tires are technologically advanced and its durability power is incredible.
The Rush is packed with world class safety such as ABS, which prevents undesirable incidences such as car locks. This is highly beneficial especially on hard and slippery terrains. The (EBD) electronic brake force distribution transmits brake force power to back and front wheels. All variants of the car are fitted with child safety locks. The main function of child safety locks are it prevents the doors from opening when car is moving.
The collapsible steering wheel aids in avoiding life threatening accidents like it protects the driver during harsh collision, particularly the front portion. The SRS airbags inflate when the car has encountered harsh dangers from all angles. The Global Outstanding Assessment technology acts as a potent shock absorber. The anti jamming power window protects the driver from encountering harsh injuries while pulling the window down.
The interior room is luxurious spacious and is packed with loads of items from a world class music system to ample storage areas. For its stunning features packed with technology and style, the car is priced at Rs 8 lakhs.
This is a noteworthy purchase for those keen to buy the Rush, occupants can trust this brand to the core, particularly with its state-of-the art safety features. Customers study the safety characteristics of the car in detail, which is a great requirement on uneven Indian roads.
This is a suitable recreation model, to enjoy a life remembering vacation with a group of family and friends and indulge in some soothing music.
Tagged: Toyota Cars India, Toyota India, Toyota Rush