The Camry has been Toyota's most popular car models, which has retained clientele for nearly 12 years due to its versatility and comfort along with reasonable price range. Though the previous model was simple and relied more on comfort than design it was Toyota's latest selling model with one Camry made every 65 seconds to keep up with demand. Toyota has revived this model with revised exteriors and interiors which forces viewers to give it a second glance. The latest model presented at New York Auto Show has been completely revamped except its roof which remains flat as before and its underbody comprising chassis and platform have been bolstered with spot welds for improving ride quality.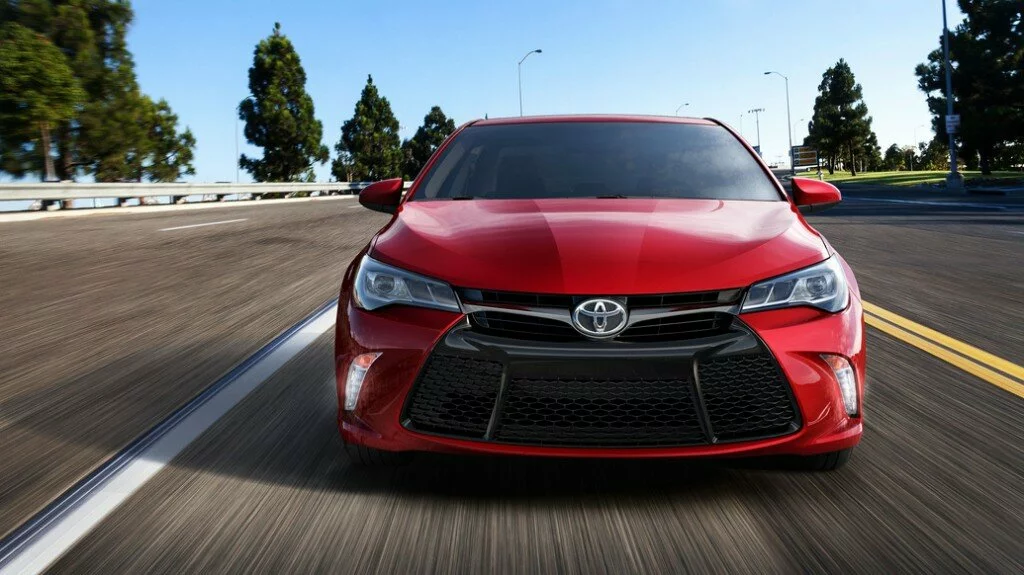 New exteriors make the Camry more edgy with radical grille design comprising wide air-dam covered by honeycomb design cutting across center of bumper and protruding outwards. Chrome rim holding Toyota logo aloft separates both radiator and lower section grilles while LED fog lamps are fitted into angular design on either side of air dam and spanning across front bumper's sides. The exteriors of new Camry are now two inches longer and half inch wider than existing model to provide more legroom and space. According to Toyota's engineers this Camry has 2000 new body parts as it was completely stripped down to skeleton and rebuilt on chassis.
Higher trims of the car now have premium interiors with soft leather upholstery on seats, handles, door trims, steering wheel and gear shaft section. To reduce nose levels inside its cabin the car's carpet insulation has been increased by 30 percent while 4.2 inch touch screen is placed more intuitively making it easier to change options. Other changes to its interiors comprise of redesigned instrument panel, cup holders between front and rear seats along with wireless charger on central console. The latest Camry is available with two high end two entry level trims along with a plugin hybrid version all of which have similar exteriors but varied interior features. Headlight cluster with projector lamps, LED DRL's and side indicator are placed in a slim eyelet like design between hood and bumper.
Toyota has installed previous Camry engines in new variants too comprising petrol engines with capacity of 2.5 liter and 3.5 liter V6 six speed automatic transmission system, while Camry's 2.5 liter hybrid engine has a CVT gearbox. Since customers had earlier complained about floaty handling issues, Toyota has now improved the Camry with strong shock absorbers and firm bushings along with stronger coil springs to improve suspension. Taillights section has been modified as well to span across hood and sides with strip of LED daytime running light at its center along with rear spoiler and pronounced body lines on sides. Its alloy tyres are same as before with twelve spoke design standing proudly under curvy wheel arches. Though Toyota has taken two years to design this new model and from its appearance the effort seems to be worthwhile, but now it remains to be seen how markets would be greeting the model and sales will be dull or exciting.
Tagged: 2015 Toyota Camry