The latest version of Toyota' Yaris which is also called Vitz in some markets has been recently unveiled at Beijing Auto Show. The Japanese car maker has also confirmed that it will stop production of existing three door version of Yaris and will instead focus attention on improving the five door hatchback. Latest model of Yaris has a striking front fascia with Toyota logo in chrome above trapezoidal grille on lower section which divides upper and lower grilles. Its redesigning has been done on basis of Toyota's twin design concepts namely "Under Priority" and "Keen Look" which integrate classic sturdiness with modern understated lines. Toyota is now focusing on making its cars error free due to recalls in previous years due to engineering faults therefore the facelifted Yaris is absolutely flawless in terms of design and power.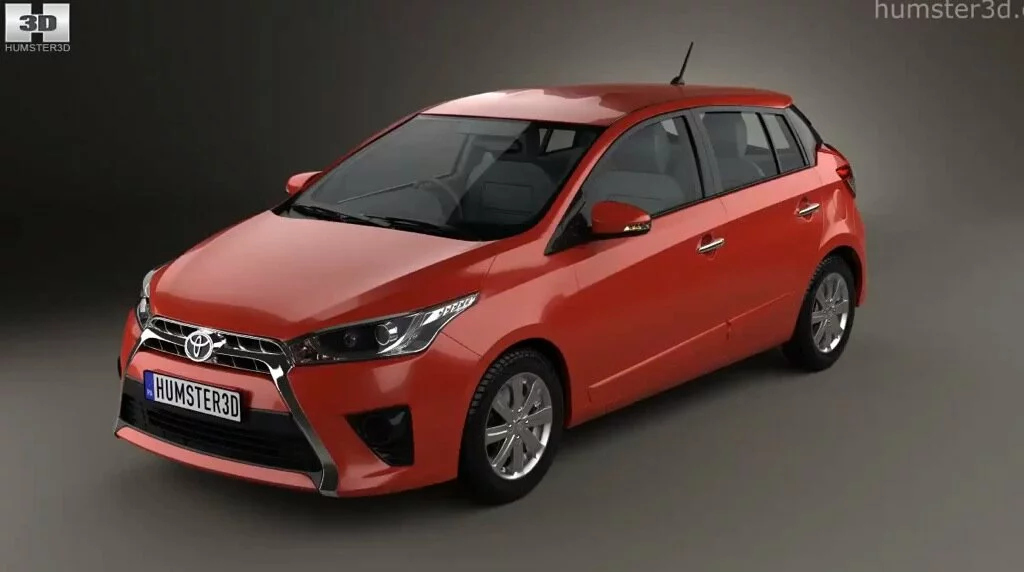 The car's front profile has been given a distinct cross shape with wide lower grille and slim radiator grille which are separated by chrome lines surrounding Toyota emblem and passing through its headlamp cluster. Headlights cluster contains projector lamp with side indicators and line of LED lamps with daytime burning feature. Rear taillights have been refitted with stylish LED lamps with diffuser function and embossed license plate with chrome line above it. Based on customer demand for spaciousness and luxury the new Toyota Yaris's interiors have been redesigned with new dual color tones and comfort features to give it an upmarket appearance. Its rear spoiler with antenna shaped like shark fin and chrome exhaust gives an overall perky appearance.
The new Yaris is now equipped with revised suspension system which provides better handling and comfort to driver. There had been complaints in the past about noisy cabin therefore interior insulation has been improved to reduce noise levels so passengers can now enjoy the music system with FM/CD/USB/MP3 which is compatible with Bluetooth too. The car is available with two petrol fuel options of 1.0 liter and 1.3 liter along with 1.4D-4D diesel option and also a hybrid engine option. Its wheel section now comprise of black alloy tyres with artistic steel covers which enhance side profile. This subcompact sedan now boasts of a roomy cabin with high quality materials and climate controlled air-conditioner to manage hot Australian summers.
The Yaris is called as Vitz in Asian markets of Japan and China and has similar design features as European and Australia variant. The car's interiors have been enhanced with new redesigned dashboard and large 7.2 inch touchscreen on central console which also contains Toyota's Link entertainment system. While steering wheel has leather cover seats have fine  leather upholstery fitted on tilt adjustable and height management feature to ensure comfortable drive for long distances. The new Yaris's fog lights are outlined in black and fixed into neat groves on either sides of large X shaped air grille which provides cooling effect to its powerful motor. Australian launch of the new Yaris will be carried out in September 2015.
Tagged: 2015 Toyota Yaris, Toyota Yaris