Toyota is geared to unveil its new products soon such as new Corolla Altis and Etios Cross. The most sought after car is Etios Cross, because of the Cross nature of the car, which is rare and exclusive. The Cross demeanor is highlighted by the presence of plastic cladding. Etios Cross was revealed at 2014 Indian Auto Expo, and the design is based on Liva hatch.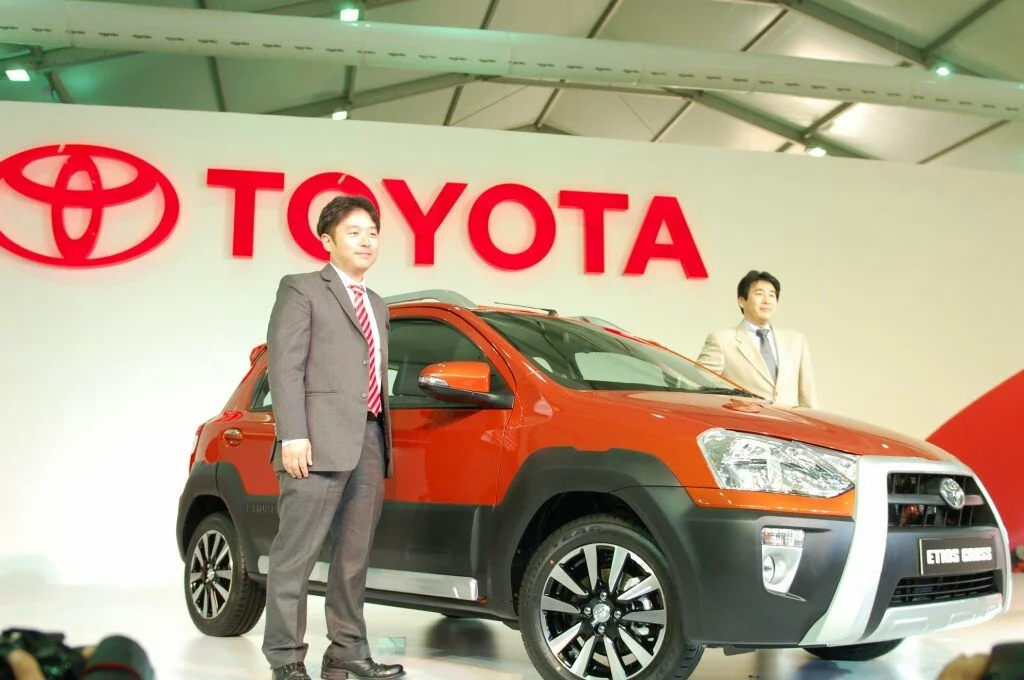 Those who are keen to buy the Etios Cross can book their cars now since bookings are open, and the down payment cost of Rs 50,000. The car will hit markets within a month in May 2014, and the waiting period is for 30 days. Etios Cross is a Cross variant of Liva hatch, and visual effect with both cars is varied. Cross looks macho and rugged, draped in silver body cladding, 10 spoke alloy wheels, huge bars on roof, restructured fog lamp, rear spoiler, and front bumper guard. The stand out features here are silver body cladding, and fog lamp cluster, which are absent in Liva hatch. There are plastic claddings on lower portion of the car.
Interiors are packed with comfort and excitement; there are adjustable headrests, chrome decorations on dashboard, black seat fabric. To listen to amazing tunes there is a world class two Din audio system with USB, Aux-in and Bluetooth connectivity. Etios Cross is a perfect model to opt for to encounter great interior décor and fitments.
The car is equipped with robust diesel D4D 1.4 liter engine that churns 68 bhp, and the petrol car moves on 1.5 and 1.2 liter power trains that yield 89bhp and 79bhp. Etios Cross is a reliable product with regard to safety, and has the standard EBD and ABS safety features. Details on price structure have not yet been disclosed, and are expected to be Rs 6 to 6.5 lakhs.
The competition levels in Indian car market are at its peak, caused by constrained economy. The adverse effects of recession has led to a new wave of excitement, there are heaps of new launches in the near future, and the launch of a Cross model is amazing. Etios Cross is an assortment of sportiness and sophistication, and is a more rugged looking car than Liva hatch. Customers will surely want to explore the Etios Liva hatch in different light. A new Cross launch always sounds thrilling, and is best suited for Indian market, because of the vast numbers of car buffs that exist in the country.
The competition is so tight that even a rare Cross model has to fight the cut-throat competition. The arch rivals of Etios Cross are Fiat Punto Adventure Cross, Volkswagen Cross Polo and Maruti Suzuki Sx4 s Cross.
Etios Cross has all the features a modern car fanatic can ask for; the launch is nearing just a month away. The bookings are open, so book your car and grab the earliest piece. It will be interesting to observe how Etios Cross fares against its competition, and years from now there might be many more Cross models.
Etios Cross is the starting point towards a whole new era of spectacular Cross launches.
Tagged: Toyota Etios Cross